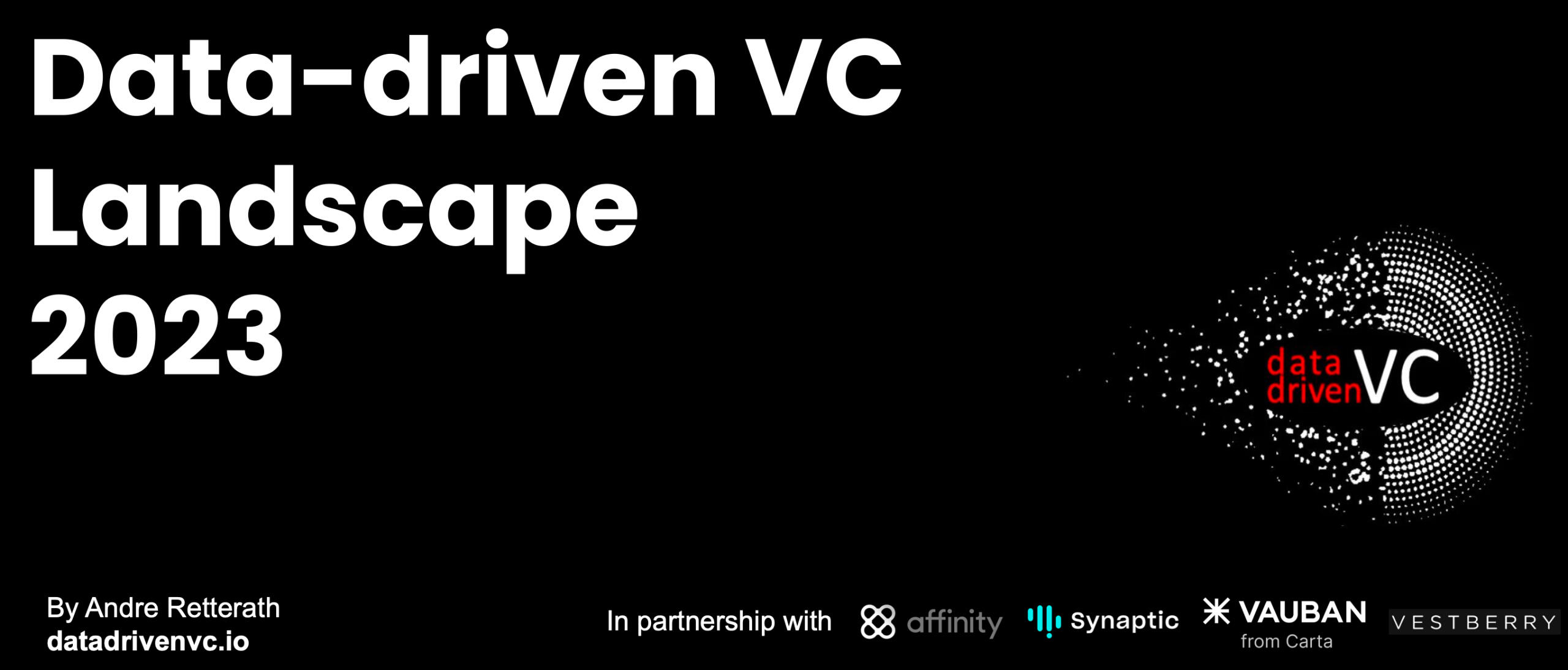 Learn how leading venture capital (VC) investors leverage data and artificial intelligence (AI) to become more productive, identify the most promising investment opportunities at the right point in time, and gain unique insights to steer their portfolio companies to success.This report includes exclusive data on 151 VC firms, 65 thought leaders, 400+ tools, and a range of hands-on guides explaining how you can become more data-driven too!
Join our free community to
access the report and all resources
---
01.
Why should VCs become
more data-driven?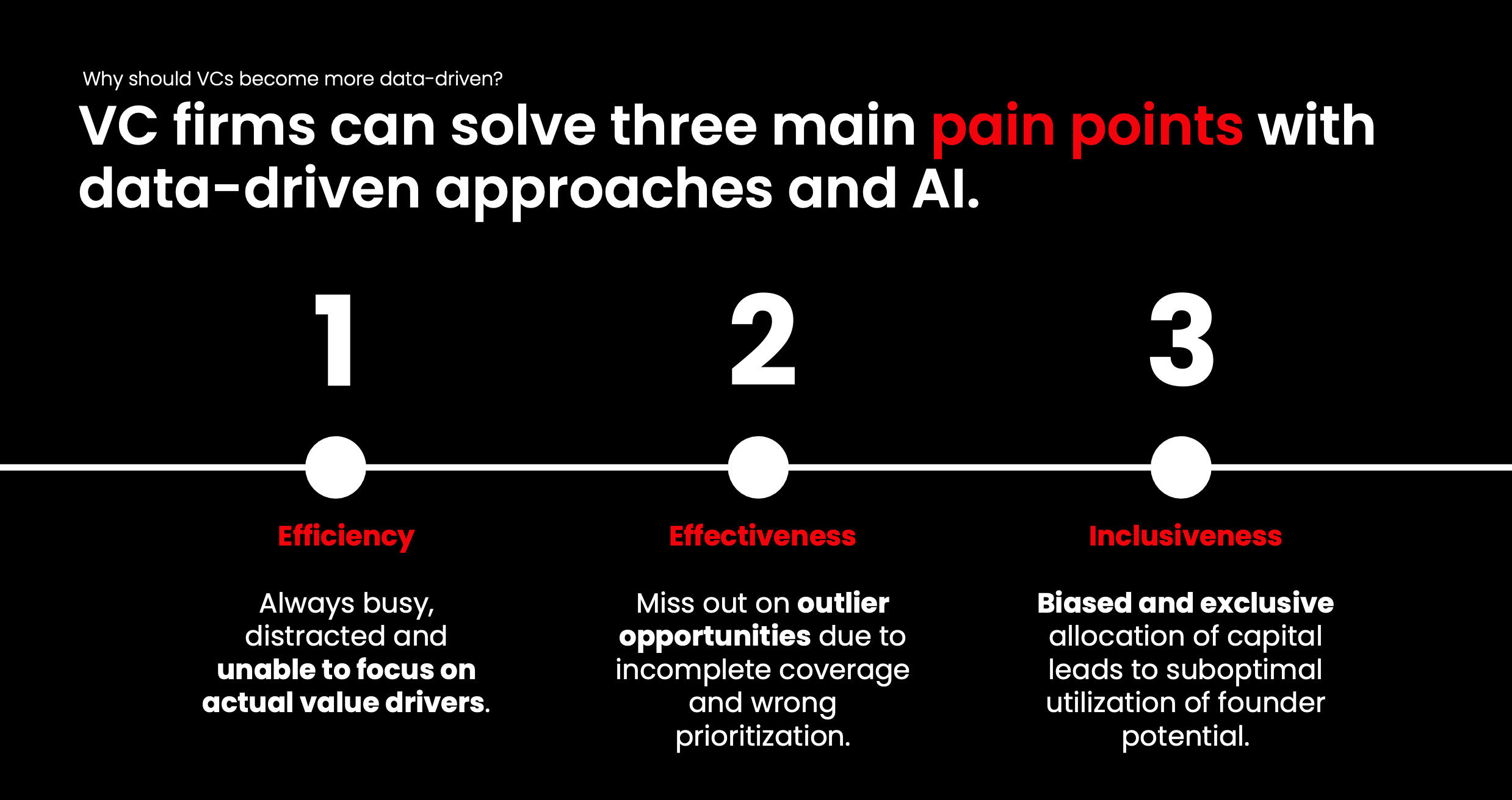 (1) Efficiency
VCs are always busy, distracted, and unable to focus on actual value drivers. Leveraging data-driven approaches and AI dramatically increases the input-to-output ratio in the VC investment process and consequently, releases time for VCs to focus on the right opportunities at the right point in time. Let computers process the data so that humans can spend more time together.This is not just theoretical, it has been shown (source) that the productivity effect of using AI reduces the time to perform tasks by 0.8 standard deviations (SDs), increases output quality by 0.4 SDs, and reduces inequality between high and low-ability teams.
(2) Effectiveness
VC returns are Power-law distributed. Missing out on outlier opportunities due to a lack of deal coverage or wrong prioritization comes at a great cost.Research shows that the top 2% of VCs end up generating 95% of the total industry returns due to a self-reinforcing VC flywheel. A significant way of breaking into these top tiers is by reducing your reliance on conventional processes and leveraging data-driven approaches to reduce your miss-rates. Machine learning models have already been proven to outperform human investors in deal screening (source).
(3) Inclusiveness
Biased and exclusive capital allocation leads to suboptimal returns.
While talent is distributed equally, capital is not.There is a huge disparity in funding across the world, between 2017 and 2022, North American startups raised 30x, 60x, and 550x more capital proportional to population than MENA, LATAM, and Africa, respectively. On the other hand, the data shows there is restricted access to the industry. Top-performing children are much more likely to become inventors, but only if they come from high-income families. White children are 3x more likely to become inventors than black children. Access to resources matters a lot.Furthermore, only 5% of founder teams are fully composed of females. Data-driven initiatives have been shown (source) to help VC firms reduce gender bias and make better, fairer investment decisions.
---
02.
Market Benchmarking
Following the above reasoning, VC firms gradually evolve from the use of basic tools to developing and adding their own scalable solutions. Throughout this journey, VCs can be classified into three groups:a) Old-school VCs - 0 Engineers* in the team; focused on manual workflows, a simple tool stack with a CRM system like Salesforce, basic Email, Slack/WhatsApp for communication, etc.b) Productivity VCs - 0 to 1 Engineer* in the team; successfully took the first leap to a modern off-the-shelf tech stack with VC-focused CRM systems like Affinity, automated workflows with Zapier, the use of Notion for knowledge sharing, etc.c) Data-driven VCs - 1 or more Engineers* in the team; develop their own scalable solutions to capture data, automate workflows and bring the core of their business in-house.*Note that the term "Engineer" summarizes developer and data positions of any kind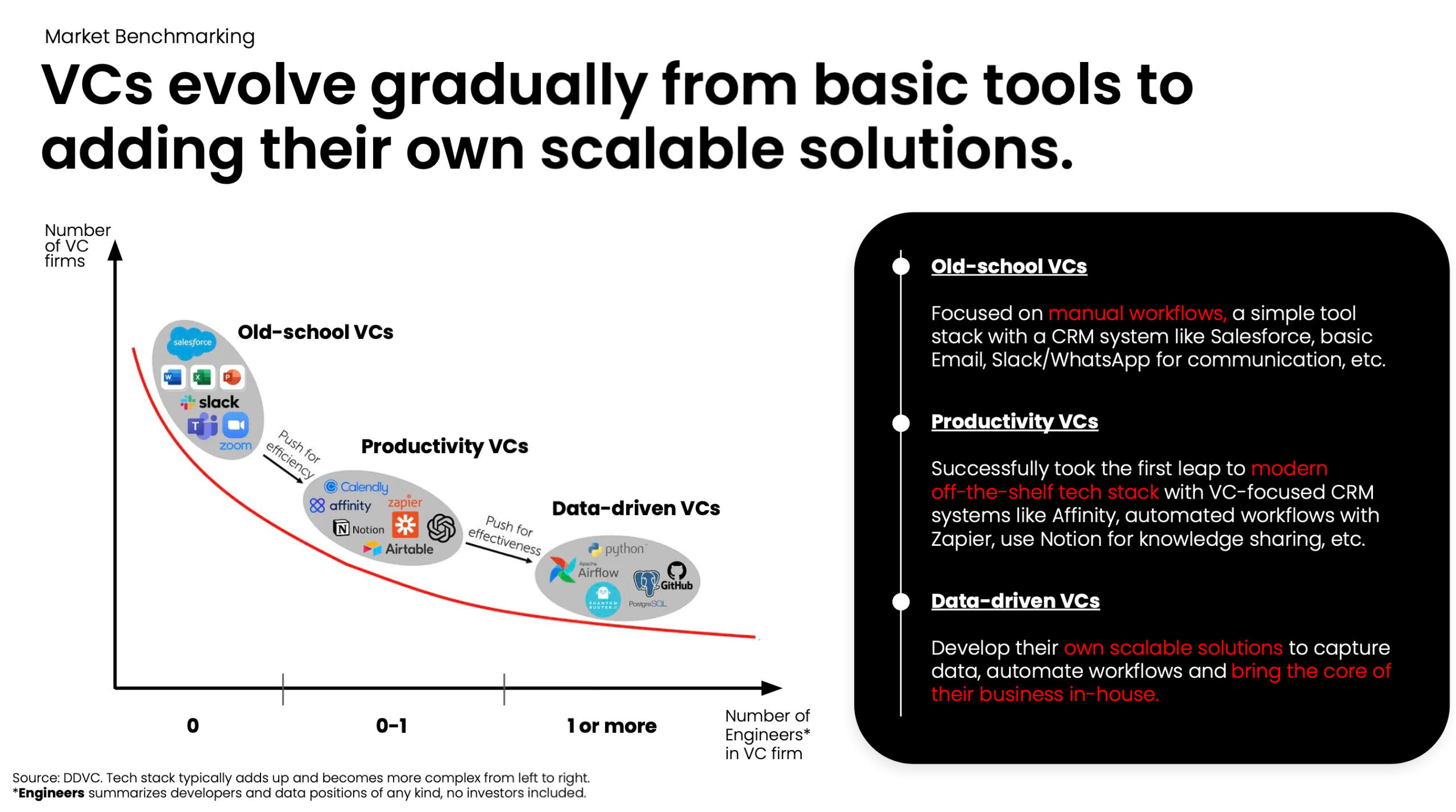 On a methodological level, we define a data-driven VC (DDVC) as a VC firm that fulfills all of the following three conditions:1. The team must have at least one engineer working on internal data initiatives;2. The fund must have at least one DDVC community nomination;3. Proven to develop internal tooling in at least one segment of the VC value chain.We applied these conditions globally and found 151 data-driven VC firms. Moreover, we ranked the top 20 DDVCs based on the number and ratio of engineers in the team, what segments of the value chain were covered with data-driven initiatives, and the number of community nominations.You can find the full landscape below and in our Notion list (including all data) here.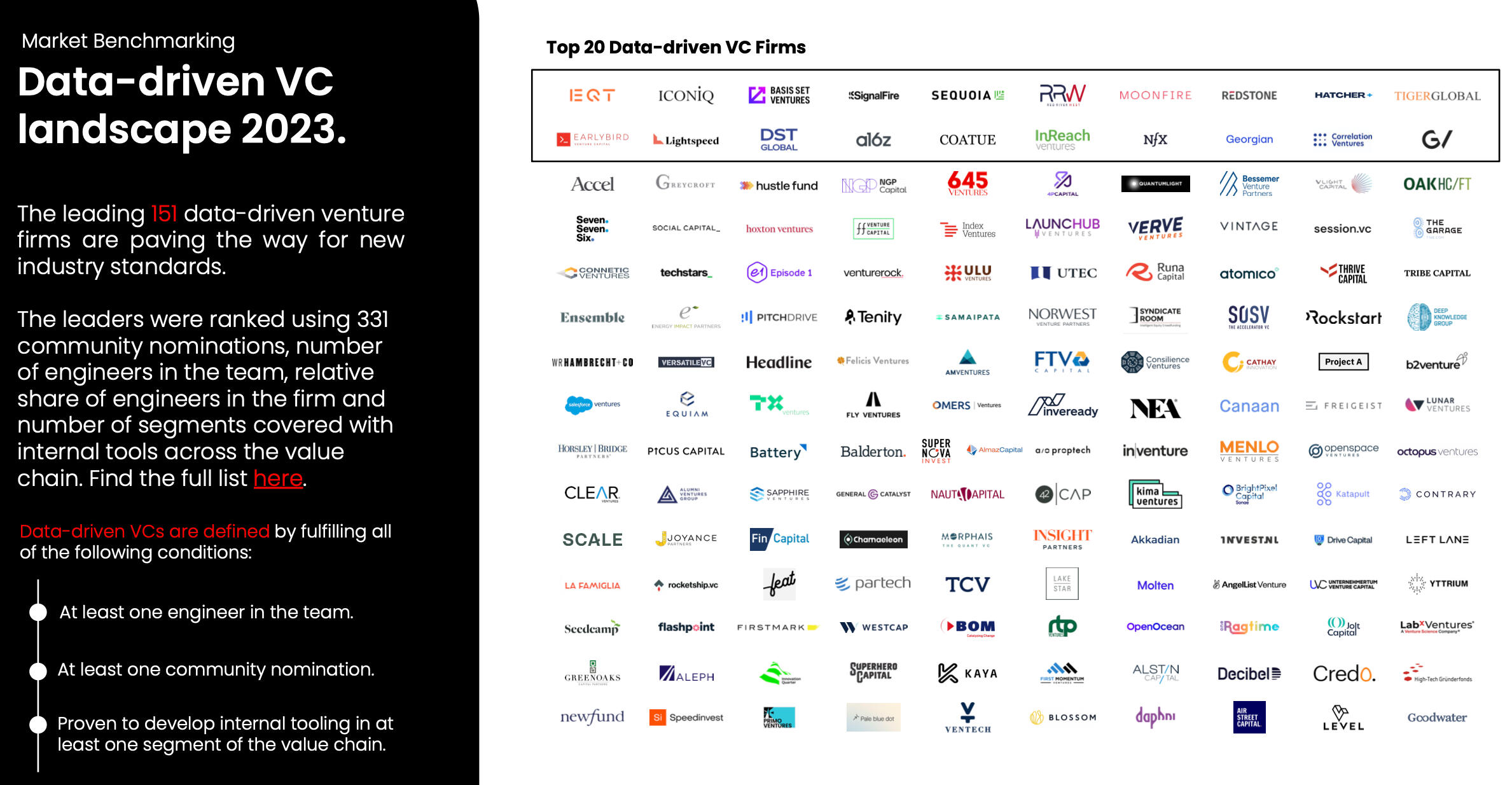 We analyzed these firms and drew a range of conclusions, all of which are included in the report.Our major learnings are:a) Engineering activities scale efficiently as assets under management (AUM) and the number of engineers are exponentially correlated;b) DDVCs still primarily focus on the initial stages of the VC value chain (Sourcing & Screening), closely followed by Portfolio Value Creation and Due Diligence;c) Younger and smaller firms more broadly build tools across the value chain than their older and bigger peers. Newer firms benefit from greenfield situations, whereas established VCs face more friction due to migration requirements, process changes, and cultural reluctance.

The good news is that we are still in the early stages of the data-driven revolution.
While 84% of VC firms globally want to increase their efforts and resources to become more data-driven, only 1% of VCs have existing initiatives and dedicated teams today.
---
03.
Execution - How do you get there?
Looking behind the scenes at the leading people driving this revolution, we compiled a list of
65 influential thought leaders in the space. They create extremely useful content that allows our community to learn from each other and move ahead with confidence.You can find the full landscape below and in our Notion list (including all data) here.
With the help of more than 250+ community submissions and a list published by top 20 thought leader Francesco Corea a few years ago, we compiled the most comprehensive package of 400+ tools used by modern VCs, classified by type and focus across the value chain.You can find the most frequently used tools below
and the full list on our Notion page (including all data) here.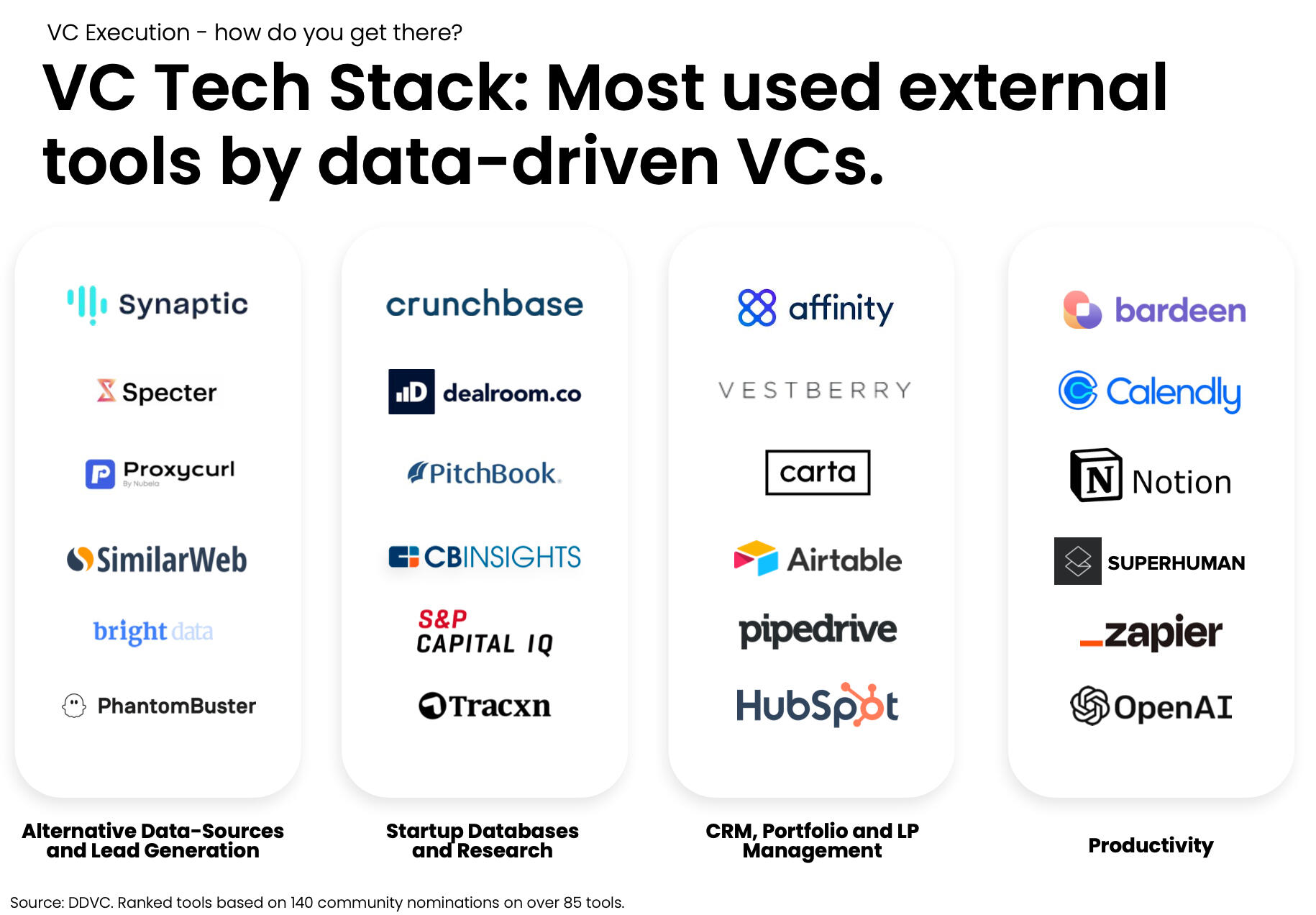 ---
Conclusion
Venture Capital investors provide the means for ambitious entrepreneurs to unlock exceptional potential through technology, yet the VC industry itself is one of the least digitized in the world. While many firms claim to leverage novel tools, data-driven approaches, and AI, reality shows that only very few consider such initiatives a crucial part of their strategy and thus allocate visible resources.Looking at the leading DDVC firms, we see them thoughtfully balancing the use of external off-the-shelf tools and the development of unique components in-house. Only when keeping the secret sauce, the core of their tech stack in-house, VC firms will be in a position to generate alpha in the long run. This is also why few firms and thought leaders actually speak about their initiatives, eventually creating opacity and room for window dressing.This report is here to change this. To create transparency, shed light on the leading firms, their characteristics, team setups, focus across the value chain, tools, and a lot more. It's the open-source approach in a mostly closed-source industry. Let's push the boundaries and make VC more efficient, effective, and inclusive.Stay driven,
Andre
Access the full report for free
---
© Data-driven VC. All rights reserved.